Kingston SSDNow V300 Series SSD has been picked as one of the best value solid state hard drives out there. "Kingston is committed to delivering SSDs at the best price to performance ratio as possible. We achieve this again with our next-generation SSDNow V300," said Ariel Perez, SSD business manager, Kingston. "The SSDNow V300 is the best cost-efficient upgrade for users who want their existing systems to perform faster. They will experience faster boot up and shutdown times, and will also see much better system performance when multiple applications are open."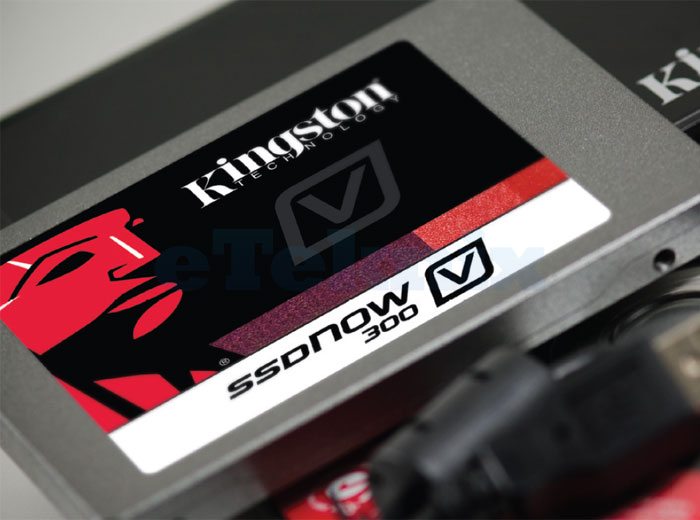 The Kingston SSDNow V-series has always been designed for ease of use and simplicity. Many consumers do not need a high dollar flagship SSD that brings a high price point along with the high performance. Many users have relatively light workloads that consist of email, internet browsing and heavy multimedia use. This type of usage pattern does not require the highest speed that money can buy, and for most common users the real decision comes down to price and reliability.
Kingston's value oriented SSD is wading into tough waters with the TLC NAND Samsung 840, providing a great solution in the 'bang for the buck' category.
I am not going here to review this drive, because the web is full of experts' reviews, rather I will lay out the conclusions of their reviews to make it easy for readers to have an essential cognition on this product.
Below are the testimonials of the prominent experts in the SSD industry on this great drive:
– – – – – – – – – – – – – – – – – – – – – – – – – – – – – – – – – – – – – – – – – – – – – – – – – – – – – – – – – – – –
1- PC-Mag (

pcmag.com

):
Bottom Line:
The 128GB Kingston SSDNow V300 Series SV300S3D7 internal solid-state drive pushes well below the $1 per GB price point without compromising drive performance.
Pros
[*] Great price/performance ratio. Priced well below $1 per GB.
Cons
[*] Older SF-2181 loses speed in random read/writes, or when working with uncompressed data.
---
2- Hardware Canucks (

hardwarecanucks.com

):
Bottom Line:
Kingston's V-series SSDs have a long history of offering competitively priced solutions which tend to punch above their weight class on the performance front. This has endeared them to enthusiasts and novices alike since relatively low pricing and outstanding real-world results is an enticing combination for pretty much everyone. The V300 is the latest iteration of this storied line and like its predecessors, this SSD provides nearly everything we could want from a budget-friendly storage solution.
With the V300, Kingston needed to outperform the competition without stepping on the toes of its bigger brother, the HyperX series. Threading this needle wasn't easy but the newest addition to the SSDNow family accomplishes everything it set out to do without alienating anyone. The V300 provides excellent value, reasonable performance, easy to use data migration software and a great warranty, making this one of the most accessible SSDs currently available.
---
3- [H]ard|OCP (

hardocp.com

):
Bottom Line:
For the capacities of 60GB and 120GB Kingston has managed to deliver a value-oriented SSD that will hold the TLC NAND sharks at bay. The test pool that we placed the 120GB Kingston SSDNow V300 into was definitely weighted against this value offering, yet it managed to come up with some respectable performance, more than enough for a typical consumer.
With a lower cost, higher performance and higher endurance than competing TLC products of the same capacity Kingston has found a nice niche for the V300 series of SSDs. Kingston has a solid reputation among enthusiasts and a decent 3 year warranty on the drives which feature the proven LSI SandForce SF-2281 controller in conjunction with 19nm Toshiba Toggle NAND.
Taking into consideration the low prices for standard higher-endurance MLC (in relation to TLC products) at the 60 and 120GB capacity, and great overall performance, we give the Kingston SSDNow V300 the [H]ard|OCP Silver Award.
---
4- CDRLabs (

cdrlabs.com

):
Bottom Line:
The Kingston SSDNow V300 is an excellent choice for the cost-conscious consumer looking to upgrade their existing desktop or notebook PC. This new solid state drive combines LSI's SandForce SF-2281 controller with Toshiba's 19nm MLC Toggle Mode NAND flash to deliver some surprisingly good performance. While rated at only 450 MB/s, the 120GB V300 was able to read at speeds as high as 585 MB/s and write at speeds in excess of 500 MB/s. It also exceeded expectations in our random write tests, delivering more than 80,000 IOPS at low queue depths. Impressive performance isn't the only thing the V300 has to offer either. Along with a good looking, well constructed design, the SSD is available as a standalone drive or as part of an upgrade kit containing cloning software and other accessories for a desktop and/or notebook system.
Pros
[*] Available in 60GB, 120GB and 240GB capacities
[*] SandForce SF-2281 processor
[*] Toggle Mode NAND flash
[*] Excellent sequential read and write speeds
[*] SATA 6Gb/s interface
[*] Supports SMART, TRIM and Garbage Collection
[*] Available as stand-alone drive or as part of an upgrade kit
[*] Well constructed design
[*] Ultra-slim form factor
[*] Reasonably priced
[*] 3 year warranty
Cons
[*] Not as fast when writing incompressible data
---
5- The SSD Review (

thessdreview.com

):
Bottom Line:
All in all, kudos to Kingston and LSI SandForce for the great new SSD introduction and we are happy to award our Innovation Award to the SSDNow V300.
---
6- The SSD Review (

thessdreview.com

):
Bottom Line:
Pros
[*] The SSD is of a magnitude faster generally than the mechanical hard drive in almost every way. Windows startup is blazing fast and shutdown is noticeably quicker!
[*] Kingston's SSDNow V300 120GB drive has improved over the previous V200 series with a new custom controller and memory that brings it up to near HyperX performance.
[*] SSDNow V300 is great bang for buck at $110 for a 120GB standalone drive or ten dollars more for a kit bundle
[*] TRIM support and garbage collection keeps your drive "like new". The SSDNow 300 SSDs also offer advanced wear-leveling technology, S.M.A.R.T. tools and DuraClass Technology.
[*] Excellent bundle for notebook or desktop in a single package makes setting up your SSD a breeze and well worth the ten dollars more over the standalone drive . However, standalone offers a good option for those who already have the cloning SW and HW.
[*] 3-year warranty and superb Kingston support stand it out from the "SSD crowd"
Cons
[*] Price per GB is still high compared to mechanical hard drives.
[*] Limited storage compared to HDDs
[*] 120GB is too small for a hardcore gamer; 240-256GB makes a difference to a gamer
[*] The 120GB Kingston SSDNow 300 deserves the ABT Great Value award. It is a good drive for gamers who don't mind its limited capacity, there is plenty of room for Windows, applications and perhaps five or more of your favorite games. It is also highly recommended as a time and frustration saver in starting up and shutting down Windows and for anything to do with file access, copying, or loading game levels.
---
7- Think Computers (

thinkcomputers.org

):
Bottom Line:
All in all Kingston has put out another quality solid state drive. Did I mention this drive is only 7mm thick? That means it is the perfect upgrade for your Ultrabook! Also this is a great drive for a beginner as it comes with an installation DVD. The only downside to this drive would have to be the 3 year warranty. While 3 years seems to be enough the industry is moving towards 5 year warranties on solid state drives. Overall ThinkComputers gives the Kingston SSDNow V300 120GB Solid State Drive a 9 out of 10 score and our
Pros:
[*] Great performance
[*] Accessories bundle
[*] Price
Cons:
[*] Would have liked to see a 5 year warranty
---
8- Real World Labs (

rwlabs.com

):
Bottom Line:
Kingston is offering up the SSDNOW V300 120GB as a "Value Drive" and as such the V300 is has one of the best prices in its class. The V300 however is one of those rare drives that outclass the rest of the class because; it's actually more of a performance drive with a value pricing. The drives quality is outstanding and all components used are top quality. There is no crappy Asynchronous NAND in this baby as we so often see in a "Value" oriented drive. Toshiba's 19nm Synchronous NAND Flash offers a rare combination of performance and low cost making it the ideal choice for the V300. Kingston did a great job with the V300 and it's a drive we have no reservations what so ever in recommending you own.